Principal's Profile: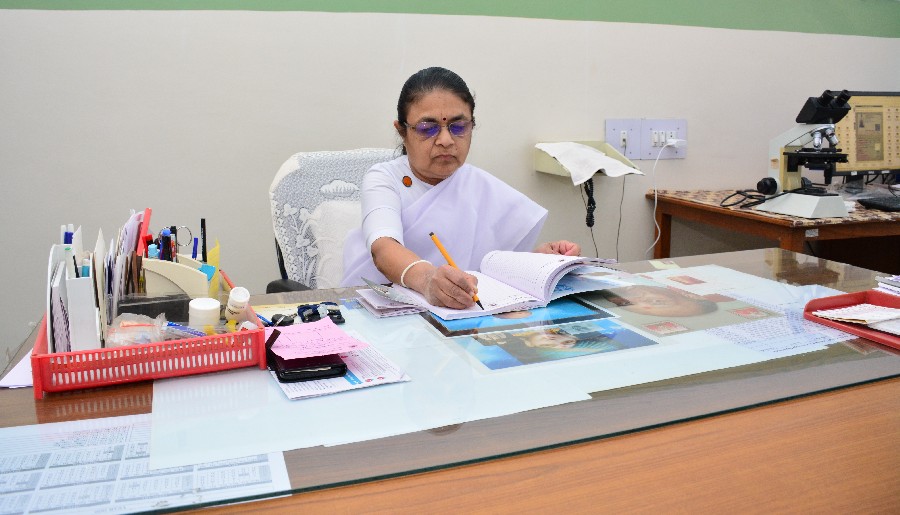 Name:

Dr. Menka Shah
Principal, Smt. L. P. Patel Institute of Medical Laboratory
Technology, Karamsad – 388325

Qualification:

MBBS (1977) Saurashtra University
DCP (1980) Gujarat University
MD (1982) Gujarat University

Professional Experience:

32 years
as Consultant 5 years
Undergraduate 32 years
Postgraduate 16 years

Examiner in MBBS, MD:

Sardar Patel University, Vallabh Vidhyanagar
Gujarat University, Ahmedabad
Bhavnagar University, Bhavnagar
M. S. University, Baroda
MHUS University - Mumbai, Solapur, Dhule, Nashik
Saurashtra University - Jamnagar, Rajkot, Surendranagar
Rajasthan University, Udaipur
Veer Narmad South Gujarat University, Surat.
GOA University

Examiner in Physiotherapy, DMLT, BSc MLT, M.Sc. MLT, BHMS, M. Pharm:

Sardar Patel University, Vallabh Vidhyanagar
Principal's Message
We believe that purpose of education is to replace an empty mind with an open mind. Our aim is to teach the upcoming youths to learn, not just to study. Hence we strive to travel beyond the boundaries of mere books. We realised that the future is abstract and unknown but the youth in our hands are real and can be molded. Our institution also focuses on molding students toward a bright future.
Our institution provides a basic foundation for the students so that they can acquire the necessary skills for becoming future nightingales. I can firmly assure you that the students are not only trained for becoming technicians but to become a perfectionist in the allied health science profession. The College having adequate and modern facilities to execute its mandate shall constitute the key to continuing success.